Polyethylene Pail Liner, 5 gallon Capacity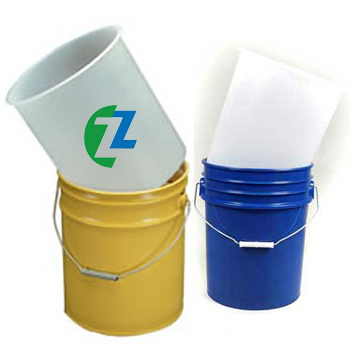 Description
Product features
Rigid plastic pail liner for use with Vestil 5-gal. pails
HDPE for resistance to chemicals and moisture
Lipped rim to facilitate removal
Measures 13-1/4" x 12-1/2" including lip

Molded rigid drum liners (pail inserts) are leak-proof and are ideal for packaging:
Paints, Inks, Pastes, Adhesives, Varnishes, Solvents, Chemicals, Sealants, Foods, Dry goods, Pharmaceutical products...and much more
Our molded rigid drum liners can handle even the toughest industrial applications. They facilitate the material disposal process. Reduce some overhead costs by using pail inserts. Drum liners extend the lifetime of drums and pails by reducing wear. There are additional cost savings as the inserts and liners will decrease the time and cost associated with cleaning and reconditioning drum and pails.

Product description
This rigid plastic pail liner can be used with 5-gal. pails. It is made of 15 mil high-density polyethylene (HDPE) for resistance to chemicals and moisture, and has a lipped rim to facilitate removal. The liner measures 13-1/4 x 12-1/2 inches (H x Dia) including the lip. (H is height, the vertical distance from bottom to top; Dia is diameter, the horizontal distance from one side of the rim to the other.) This rigid plastic pail liner is suitable for use in a range of industrial and commercial settings.

Do you know the gallon size you need, but not sure what bag size you should use? Easily convert drum capacity to bag size using this table. This is meant to be a guide, individual needs may differ especially for tie off and or overhang:
| | |
| --- | --- |
| Drum Capacity | Bag Size |
| 1 gallon | 12 x 18" |
| 2 gallons | 14 x 20" |
| 3 gallons | 18 x 24" |
| 4-5 gallons | 20 x 30" |
| 6-7 gallons | 24 x 23" |
| 7-10 gallons | 24 x 24" |
| 8-10 gallons | 24 x 30" |
| 12-16 gallons | 24 x 33" |
| 20-30 gallons | 30 x 36-37" |
| 30-33 gallons | 32 x 50" |
| 33 gallons | 33 x 39-40" |
| 40 gallons | 40 x 46-48" |
| 40-45 gallons | 39 x 46" |
| 50-55 gallons | 36 x 60" |
| 60 gallons | 38 x 60" |